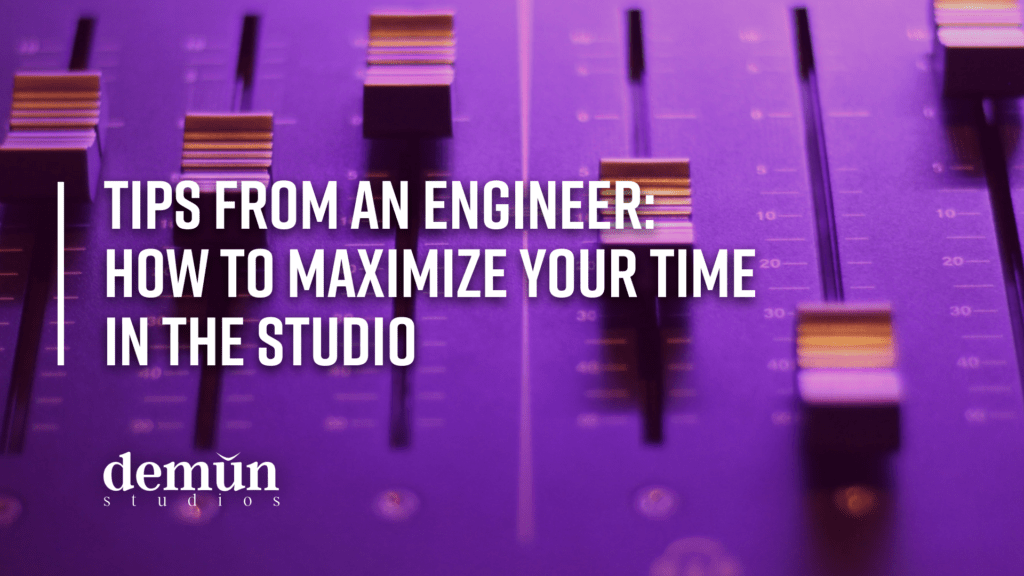 So you're ready to hit the studio. What should you do to maximize your time? We spoke with lead engineer Colin Dobash to get some advice. He has spent five years at Demŭn Studios and says it's always good to be prepared. 

"One way works really well that I've noticed — coming in with lyrics already written," Dobash says. "I would say it makes the workflow a lot faster, just because they're already done and having to come up with them on the spot definitely takes a lot more time."

Having a vision of how you want your song to be coming in is very important. Dobash says to also rehearse the song and run it by a friend or another artist if possible.

"It's always good to show other people and get feedback before you come into the studio," Dobash.

Once you're in the studio, Dobash is happy to offer feedback and assistance.

"A lot of times the artist will ask, 'What do you think about this? Does this sound good?' And you have to give them your honest opinion," Dobash says.

Dobash says he will give constructive criticism and pointers ranging from how to stay on rhythm, switching around certain words, re-amping instruments, and adding other elements to make a song better.

"There's definitely a lot of back and forth between the artist and the engineer, or sometimes people will bring in like a producer and they sometimes help with pitch too," Dobash says. "If someone's a little flat or sharp, you kind of have to speak up about that and say, 'Hey let's do that again.' If you've been working for the person for a while and you know they could do a better take, speak up, saying like, 'Let's do that one more time.'"

He says communication is vital in the studio and in between sessions.

"There's a lot of back and forth between the engineer and the artist bouncing ideas back and forth, and the main thing is focusing on what the artist wants and their vision, trying to create that," Dobash says.

Here are some other ideas to prepare for your time in the studio:

Rest up your voice beforehand and warm up. Get a good night's sleep and drink lots of water. Do some warmup exercises too to be able to hit those high notes and help your voice last longer that day.
Get to know your equipment. Find out what everything is used for, and ask an engineer if you have any questions. You should be comfortable using the microphone or anything else needed.
Have a plan going in. This is especially important if you're in a band or recording with a bunch of people. Have a road map of how the session should go so you don't burn through time and money. Have your arrangements ready so there's time for any messing around or spontaneity if needed.
Have a good attitude and be respectful. Arrive a little bit early so you're not flustered and can adjust to your surroundings before starting the session. Don't be rude and berate those you are working with, and respect their time and your own.
Bring reference materials. If there's a specific sound you're going for, bring an example. Have tracks you like saved on your phone for inspiration or for expressing what you like when you just can't find the words.
Don't let your session get too crowded. It might seem like a great idea to have a bunch of friends or family cheering you on, but it can be a distraction and can take away from time with the engineer and/or a producer.
Don't cram too much into one session. Recording takes time, so don't rush it or try to record everything all at once.
Never force it. If it's just not working, take a break or a breather to get some perspective, then try again. If you need to reschedule, do that as well.
###