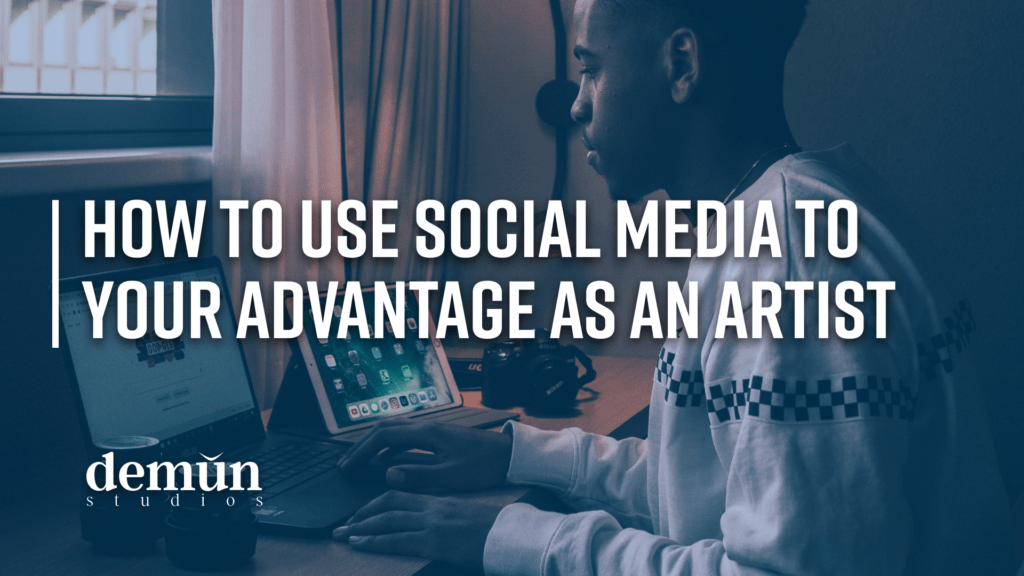 Social media has changed many aspects of our lives including the music industry. Gone are the days of waiting for your record label to make the first move in marketing your songs or setting up a meet and greet with fans. Nowadays, artists have more freedom to put themselves out there and share their own content. It's also easier now for fans to get a sense of an artist's personality and form a connection that feels more genuine. There are several social media platforms out there that can make a big difference in your career like TikTok, YouTube, and Instagram, just to name a few. Demŭn Studios likes to go the extra mile for our clients, so we've put together this blog post to give you some simple ways to grow your craft online with some advice and tips for using these platforms to your advantage as a music artist.
TikTok is one of the most popular platforms right now, and there are many artist success stories. Jackie Miskanic, more commonly known as Jax, is a 25-year-old from New Jersey who came in third place on the fourteenth season of "American Idol" in 2015. Jax released her first post-" Idol" recording in 2016 and signed a deal with Atlantic Records in January 2021. A major part of her recent success is undeniably her TikTok account. Jax currently has 4.6 million followers and 66.6 million likes and only started up her page at the end of 2019. She doesn't do lip-synced dances or influencer posts — Jax showcases her talent in a creative way that has attracted many younger viewers. The video that kicked it off was "From Stacy's Mom's Perspective," a hilarious take on Fountain of Wayne's 2003 hit "Stacy's Mom," and she's done similar treatments of other songs since.
MusicianPort offers some helpful tips for artists hoping to get big on TikTok. First, find your niche. If you're good at song parodies like Jax, focus on that, or if you have another hobby or passion in life, start out by highlighting that and then introducing your music into it. For example, if you're a big DIYer or into arts and crafts, show those off accompanied by a song or rap of your own. Another tip is to post consistently. If you're not so technically inclined, start off with a video a day, or if you're more comfortable or more experienced, aim for a few a day. Trends, funny skits, and challenges are a big part of what makes TikTok tick and often lend themselves well to music, so get in on those if you can. A good way to see what's popular that day is to check out the "For You Page." It's basically a newsfeed with videos curated to you that you can scroll through. If a certain song is trending, you can create your own remix. Duets are also super popular, and it's when you create a video response to another user. Original sound too is huge on TikTok which means you have the chance to record your own sound, music, and voiceovers. Clips can range from 15 seconds to 30 seconds and now 3 minutes in length for some users. It's important to keep in mind that TikTok's algorithm often changes. A part of that is audience retention or how long someone watches your video for. You can find that by looking at the metrics for your video which also includes the total play time and total views. Using hashtags, posting at a time when most of your followers are online, and using trending sounds in your video can also make a difference and get you to stand out.
While TikTok is arguably the most popular social media platform right now, let's not count out YouTube as a tool for musicians. This is one of the original spots for artists to post their songs and music videos, and there's even YouTube for Artists, a special resource that can help you connect with the community, view analytics, promote your tour and sell tickets, and more. DIY Musician has several easy suggestions for creating a YouTube channel. First, use a custom photo background and set your channel type to musician. Doing so enables you to add performer information and publish a schedule of show dates. Next, add links to your website and where to buy your album or songs such as a purchase page on iTunes. Add tags to your channel and videos which helps fans find you more easily during a search, and be mindful of what you title your videos. Add some keywords like the band name, song name or the name of the venue or location if applicable. You also don't only have to post music videos. Flex your creativity by adding a lyric video, commentary, interview or even a funny rap or skit. Lastly, respond to comments. This will show your fans that you appreciate them and inspire others to chime in. It's also helpful to point out something unique about the video in the comments to get people thinking.
Instagram is another great tool for artists. According to New Artist Model, it's one of the most effective music promotion channels out there with the highest engagement rates across all social media. One of the best things to do when you first sign up for Instagram is to create a business account. It functions exactly like a personal account but gives some additional features like analytics. You'll then be able to write out a short bio which is a good spot for a quick elevator pitch. Don't just share what kind of music you do — use this as an opportunity to share a piece of your personality or a funny quote. It should be a good hook that gets people to read and listen. There's only one spot for a link on Instagram, so utilize a service like Linktree. It's basically like a landing page that allows you to store all of your links in one spot. It's also popular with TikTok creators.
Choose a good profile picture of yourself — an album cover or a logo if you have one. Next, think about what you'll be posting. Instagram gives you the ability to create stories, posts, and reels. Stories are the ones that are up for 24 hours. It's a great way to give a good update on where you're at in the studio or give a sneak peek into your daily life. It's also an excellent way to engage with fans through poll questions, quizzes, and Q & A sessions. Posts are the more curated types of content that stay up on your page. You can upload videos up to 60 seconds in length, share professional photos, and more. Reels are 15 seconds in length, and you can add your own music and effects to them. Lastly, Instagram offers the ability to go live. You can live stream straight on the app from your phone. It could be a cool way to show off an impromptu performance or make announcements about an upcoming single or tour date.
To sum it up, you should definitely consider putting yourself out there on social media as a music artist. It will allow you to be more visible and reach a wider audience, build loyalty and relationships with fans and get feedback directly about what you're doing right and wrong.